"As a small charitable project, Multikulti is a ground-breaking application of Unicode technology to generate and deliver essential translated content to disadvantaged minority communities in the UK." : Dr Dan McQuillan - Project Leader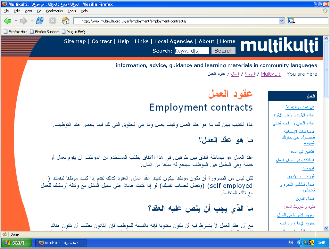 This project supports citizenship through the delivery of appropriate and accurately translated information in welfare law.
This site:
Uses Unicode throughout. This provides a universal way of encoding characters of any language, regardless of the computer system or platform being used.
Complies with accessibility standards in each and every language.
Has a behind-the-scenes Workflow Area, which provides a space for the translators and proof-readers to work.
Allows users to search in any languages. Additional features of this site include navigation aids, a sitemap, a help page and a local agency finder.
"A very useful website!" : Katharine Spackman – County Reference & Information Librarian
Awards